Whoever is installing the tracking code will have to log in to HubSpot to complete the steps, so you need to create a HubSpot user account for them. For a refresher on creating a new HubSpot user account,
click here
.
Once you are logged in, follow these steps:
1. Login to Your Hubspot Account
Visit http://www.hubspot.com/ to login to your account.
2. Go to your Reports Settings
From your HubSpot Dashboard, navigate to Reports > Reports Settings.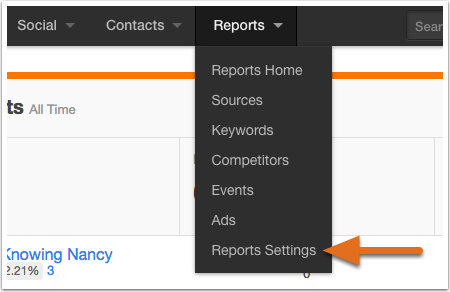 3. Copy the HubSpot Javascript tracking code
Copy the tracking code provided in your account by using the Copy to clipboard button, or by highlighting the code and using the copy function of your keyboard.
The tracking code is different for every HubSpot account and corresponds to your HubSpot account number.
4. Add the JavaScript into the Footer Inject
4a. Login to Your Twenty Over Ten Account and navigate to 'Account'
Login to your Twenty Over Ten account and navigate to your 'account' tab. You must be in the website editor to access your settings. If your 'settings' tab is locked, navigate to 'make changes' on the left of your page. Remember that you will need to go through the review process for these changes to go live.
4b. Navigate to the 'Settings' Tab
One you have accessed your account, navigate to the 'settings' tab.
4c. Paste the Javascript into the Footer Inject
Scroll down until you see the 'Footer' Inject. Paste you HubSpot Javascript tracking code (from step 3).
*Be sure to click SAVE
Once your tracking code has been added, you can log out of your account.
*To verify your tracking code is working, please follow the instructions listed here.